For those unfamiliar with Monster Hunter 4 as a whole, there have been some significant changes made to the overall physics and structure to the game's level design. The devs claim to have made the environments more streamlined, while at the same time adding depth to them. For example, there are some stages that have more verticality with trees and whatnot that you can climb, and jump from one to the other. In caverns, stalactites that are hanging around can also be grabbed and leaped from. Climbing can be done much quicker and is not limited to vertical ascent/descent anymore. You can leap from side to side and even attack with your hunting knife to fend off mobs that are attacking you. One of the coolest additions to this is the jumping/falling attacks. Each weapon has an attack that can be performed while falling, or leaping from ledges or higher environments. This is further intensified by the ability to land on creatures, which if performed correctly will allow you to attack them in a mini-game style fashion, lashing out at them with your hunting/utility knife. If you are able to keep a grip and wear them down, they will become stunned/felled for you and your group of hunters or Felyne Comrades to wail on for more damage. This release however does see the absence of underwater battles. Fear not though, there are ways to get armor sets from some of your favorite seafaring beasts! (Which I'll talk about later.)

4th generation MonHan also features the release of two new weapons, as well as new moves/features for existing ones. The first weapon revealed was the Insect Glaive. A staff of sorts with all kinds of swift aerobic style attacks, as well as an implemented pole-vault attack, very useful for landing on monster's backs as mentioned above. This staff is equipped with an additional feature as well, a large scale neopteron/bug, or Kinsect as they have dubbed them here in the US. (Has a nice ring to it.) These critters cling to your free arm while in battle. The staff is equipped with what I assume to be a pheromone launcher, as when you fire it at whatever mob you are facing, the bug will fly out and latch to them, drawing out some manner of extract, which in turn boosts your character with various kinds of buffs, not sure what any of them are as of yet but one could assume attack/def upgrades.

I will update this with more info as time permits.

____________________________________________
.: Attempting to revive that which has been long deceased. :.
Wanted to throw this out there for now, it's been a hella busy night at work. This is a list of the monsters new to MH4U, and the returning ones.

Konchu - Hard armored "pill" bugs. Essentially Kut-Ku food, as his intro video shows him dining on one.

Kecha Wacha - New fanged beast, or for those familiar with Unite, a new Pelagus. It is a Fox/Monkey hybrid with long claws and a floppy snout.

Kecha Wacha Subspecies

Tetsucabra - Amphibious critter, looks like a monstrous toad with tusks. Also has a tail similar to the Tailed Frog hunting horn from MHFU.

Tetsucabra Subspecies

Nerscylla - Crystal adorned spider. Can bind hunters with it's web, as mentioned below it adorns itself with Gypceros hide and has an affinity for poison.

Nerscylla Subspecies - Wrapped in Khezu hide. Scary stuff indeed.

Zamite - Lesser form of the monster below, behaves similar to Giggi in the fact that they can latch on to you and draw blood.

Zamtrios - Obscure landshark creature, has various states, one where it has a hardened ice carapace similar to Glacial Agnaktor's ice armor, and one where it becomes bloated.

Tigerstripe Zamtrios - Desert themed subspecies.

Seltas - Large neopteron with a pronounced horn protruding from it's back. Is very swift in movement.

Seltas Subspecies - Split horn version of Seltas

Seltas Queen - Large scorpion/claw tailed beetle which will use the Seltas to it's advantage by grabbing it with it's tail and as such, it gains it's own flight ability by using it's mates powerful wings/flight capability.

Seltas Queen Subspecies - Golden version of the queen.

Najarala - Serpentine creature with a rather long body. Can constrict around hunters.

Tidal Najarala - Aquatic Subspecies

Gore Magala - 4th generation's new flagship monster. Has a body structure similar to an elder dragon's. Adorned in deep black scales, it has an essential 2nd set of arms to attack you with when raged, those being the humerus, radius and carpal claws of it's wings. Emits a virus from it's scales, one which can temporarily cease your natural recovery (health red zone). Can also infect other monsters.

Shagal Magala - Fully grown/developed Gore Magala. Eyes are now visible and it's black scales have been shed to reveal a white-golden sheen.

Selregios - New monster added into MH4G/U. It's body is adorned in numerous scales which it can fling at you similar to Narga's tail spines, though these apparently erupt after making contact. First monster to use hunters as projectile weapons, as the new trailer shows. Spines inflict laceration damage, which will cause you damage by performing strenuous moves. Healed by remaining crouched or eating various kinds of meat.

Daran Mohren - A "brother" species to Jhen Mohran. Can essential drill through the sand with it's monstrous drill like tusks. It's name has yet to be translated.

Dara Amadyura - Another serpentine monster of similar scale to Monster Hunter Frontier's Raviente. The end game monster/final boss. It's body is lined with monstrous blade like structures on it's back.

Dara Amadyura Subspecies/G rank equivalent - White-golden scales with red details. Red 'n yellow will kill a fellow.

There is a new, unnamed final boss shown on a recent trailer. It looks absolutely gargantuan.

This will likely change, as I am positive they haven't shown all the new stuff yet. Returning critters are as follow.

Altaroth
Bnahabra
Aptonoth
Apceros
Slagtoth
Kelbi
Popo
Rhenoplos
Remobra
Felyne
Melynx
Velociprey
Velocidrome
Genprey
Gendrome
Ioprey
Iodrome
Jaggi
Great Jaggi
Yian Kut Ku
Blue Yian Kut Ku
Yian Garuga
Gypceros
Purple Gypceros
Gargwa
Cephalos
Cephadrome
Delex
Hermitaur
Daimyo Hermitaur
Plum Daimyo Hermitaur
Conga
Congalala
Emerald Congalala
Lagombi
Rajang
Monoblos
Diablos
Black Diablos
Basarios
Basarios Subspecies
Gravios
Black Gravios
Tigrex
Brute Tigrex
Tigrex Rare Species
Khezu
Red Khezu
Rathalos
Azure Rathalos
Silver Rathalos
Rathian
Pink Rathian
Gold Rathian
Zinogre
Stygian Zinogre
Brachydios
Deviljho
Savage Devlijho
Kushala Daora
Teostra
Chameleos
Kirin
Kirin Subspecies
Akantor
Ukanlos
Fatalis
Crimson Fatalis

91 total monsters, and I am willing to wager we will see White Monoblos and White Fatalis as well. The trailer also teases a potential new boss creature, as a lot of the hunters are looking towards a darkened sky. Some have speculated Amatsumagatsuchi, or MHP3's boss dragon. Kinda bothers me that the newer psuedowyvern's are absent as well, Narga, Barioth and their subs.
Last edited by Andras on Wed Oct 01, 2014 2:13 pm; edited 3 times in total (Reason for editing : Minor updates.)
____________________________________________
.: Attempting to revive that which has been long deceased. :.
Andras wrote:
Nerscylla - Crystal adorned spider. Can bind hunters with it's web. Has sub.

Just wanted to add, for additional nightmare fuel: It wears Gypceros skin, stretched over itself in some nightmarish facsimile.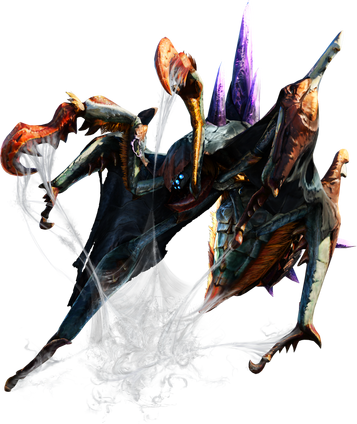 Take a look, I'll give you a second or so.




____________________________________________


"I never cared about justice, and I don't recall ever calling myself a hero... I have always only fought for the people I believe in. I won't hesitate... If an enemy appears in front of me, I will destroy it!" - Zero
Master Hunter (Staff)




Posts

: 172


Join date

: 2011-01-11


Age

: 27


Location

: Baltimore, MD



In the area where you face Ners at, there are some Gypceros corpses suspended in web, so apparently this thing's favorite dish is the poison spewing rubber chicken we've all came to love/hate.
____________________________________________
.: Attempting to revive that which has been long deceased. :.

Similar topics
---
Permissions in this forum:
You
cannot
reply to topics in this forum